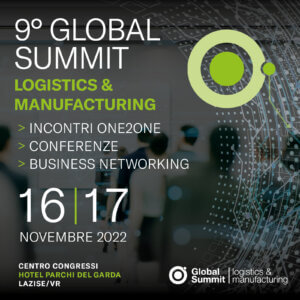 The 9th edition of the Global Summit Logistics & Manufacturing will be held on 16 and 17 November 2022 at the TH Lazise Congress Center – Hotel Parchi del Garda in Pacengo di Lazise (VR).
GLMSummit22 is the annual national b2b event dedicated to logistics and manufacturing, with workshops, networking moments and one2one business matching meetings.
It will be an opportunity to meet and discover our solutions, dedicated to the manufacturing industries, for the efficient management of production and intra-logistics.
This year our participation will focus on sustainable production understood as the promotion of greater efficiency and awareness in the use of resources and energy by promoting sustainable systems and a better quality of life for workers.
In our workshop entitled "Sustainable production – lean strategies for waste reduction" we will discover how the digitization of processes and the adoption of a lean production method can be an indispensable ally to increase efficiency and the consequent reduction of waste with significant cost benefits.
The workshop will be held on Wednesday 16 November at 10.00.
To participate you must register at the link below (participation is free!).