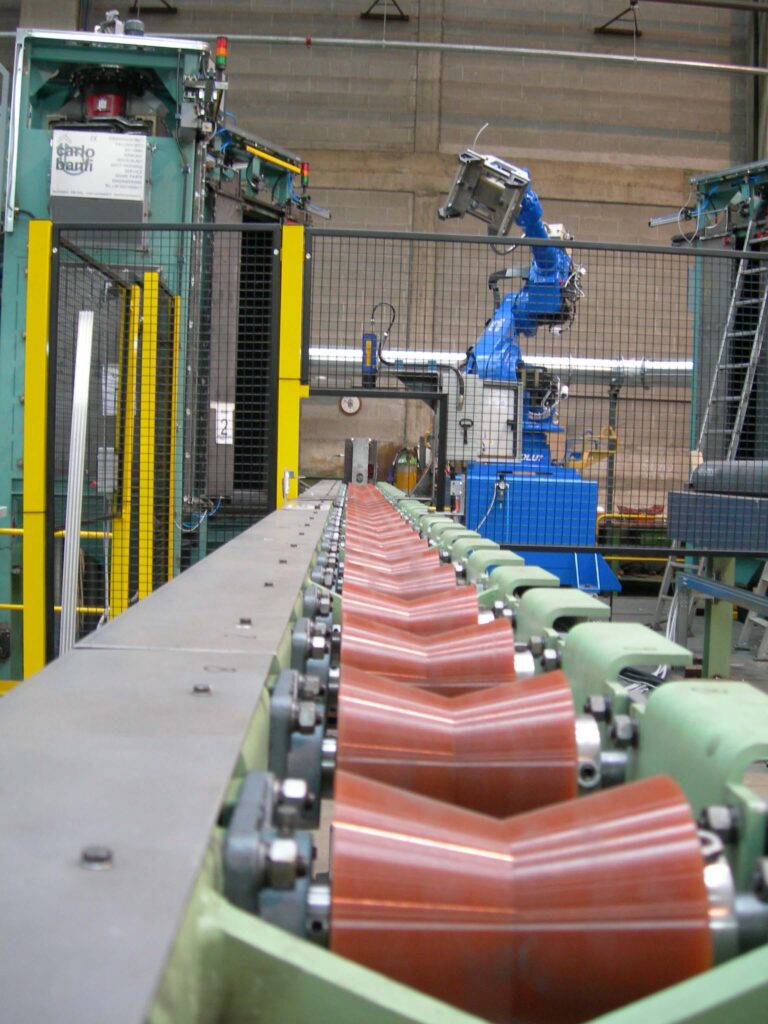 The company
Founded over 60 years ago, Carlo Banfi spa of Rescaldina (MI) is a leader in the production of shot blasting and sandblasting systems and operates in the automotive, railway and steel sectors of the European and Asian markets. Tenaris Dalmine, the final customer, is the brand that identifies all Tenaris activities in Italy related to steel pipes, with an annual capacity of 950,000 tons of pipes without welding and over 3000 employees.
The needs
The customer had to improve the quality of the internal finishing process of the cylinders (for containment of high pressure gases) and increase the seal of the cylinder by eliminating the microporosity of the internal steel. In particular, it had to improve the effectiveness of the axis control on the inverter which presented problems of positioning accuracy, process speed maintenance and torque control. It also had to integrate different systems (PLC, robot, inverter, touch panel, level 2 PC for process control) in a common network architecture and for all this it had to adapt to Tenaris standards its solutions in terms of design, software construction and development.
The solution
The Banfi plant is an island consisting of 4 sandblasting stations for the inside of the steel cylinders served, for loading and unloading, by an anthropomorphic robot that picks up the cylinder from the roller conveyor of the production line and, once the processing is finished, deposits it on the re-entry roller conveyor. The main innovative element is the use of the sandblasting process, with appropriate sand diameters and the correct pressures, for the execution of a sort of internal lamination with the aim of eliminate the porosity of the steel and improve the mechanical seal.
The solution created by Gruppo SET integrated the following activities and supplies:
electrical design;
electrical panels, operator desks and local boxes in the field;
design and technical specifications;
PLC software development, touch panel and level 2 PC for process control;
commissioning, start-up and training of operating and maintenance personnel
The benefits
Improvement of the finish of the cylinders.
Increase in line productivity.
Reduction of intervention times in case of malfunction of units and devices thanks to the adaptation to the standards of the end customer.
Increased level of quality assurance thanks to a more effective and integrated process control in the automation system

Banfi S.p.A.
» Industrial automation
» Manufacturing machine and drive (MMD) -
» Iron and steel industry