The company
Solo Italia is based on unparalleled know-how in the preparation of the most typical desserts of the Italian pastry tradition, according to very high parameters of quality, hygiene and genuineness. This young company was founded in 1991, has its production and commercial site in Ossona (MI) and employs about 160 people.
The needs
Packaging processes in the context of food production increasingly require the verification of coherence between the product made (type of dessert, taste, …) and the related packaging components (labels, packages, boxes, leaflets, …). The automatic process of filling and sealing the cups is accompanied by the activities of labeling and packaging performed automatically but requiring human intervention in replenishing the label loaders, clusters and other components. The risk of incorrect packaging due to mixing of packaging components in addition to constituting damage to the image for the producer, it can take on elements of criticality for the health of the citizen.
The solution
The solution installed in Dolcissimo consists of two-dimensional scanners integrated via an ethernet network with the centralized software application that allows the complete and transparent configuration of the system and the creation of recipes for the association of the products made with the related packaging components. The installation was preceded by an analysis phase for the definition of the characteristics of the identification codes of the clusters and for the identification of interfacing technologies with the clustering machines.
The choice of Datalogic Matrix scanners has allowed a high reliability of reading the codes allowing to reach high speeds. The software application allows for simple management of packaging recipes and requires the intervention of operators only in correspondence with the change of production on a line, making the configuration and acquisition of statistics from the scanners completely transparent.
The solution was initially installed on the client's three packaging lines and was subsequently extended to two further lines.
The benefits
Increased safety of the packaging process
Automatic rejection of non-conforming pieces and elimination of manual control activities
Elimination of repackaging / recall activities in case of errors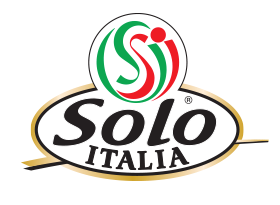 Solo Italia S.r.l.
» Industrial hardware
» Industry 4.0 software solutions
» Automatic identification (AUTOID)
» Vision system for quality control
» Food & Beverage